Blackburn Cathedral fete success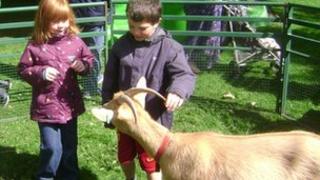 Blackburn Cathedral has opened its doors to reptiles and snakes as part of an initiative to attract more visitors.
Hundreds of people attended the cathedral's first fete, staged together with Blackburn with Darwen Council.
Canon Ian Stockton from the Blackburn Diocese said: "The cathedral is a place of meeting and celebration involved in the life of the local community.
"After a not very good summer, here is an opportunity for them to celebrate together."
Last year the partnership successfully tried out a small-scale event, but this was the first time they had held a large-scale fete in the cathedral and its surrounding grounds.
The event marks a further bonding between the council and diocese, who are already committed to the development of a Cathedral Quarter of the town.
The recently announced £29m project promises a new town centre hotel, cathedral cloisters and two new office blocks.
Cathedral authorities are anxious to show off the building as a prayerful place that is both relevant to the town and a venue for fun events that respect the sensitivities of a place of worship.
'Pop in again'
Amongst the fete's attractions were members of the North West Reptile Club who took over part of the cathedral crypt to show a variety of creatures.
Handler Damien Simpson was clutching Roland, a 6ft, five-year-old grey rat snake when he said: "This is a really good space to show off what we do and a lot of people seem very interested in the snakes."
Hand bell ringers, the Wellybobs Adventure Farm Park Roadshow and the Frolicking Pete and the Fumbling Fingers ceildh band were amongst the attractions.
Three of the Frolicking Pete quartet has an active role in cathedral life. Multi-instrumentalist Virginia Crewe said: "We've had a lot to do with cathedral music in the past because our children were in the choir. Playing inside the cathedral is amazing."
Jean Watson and her friends were demonstrating the hand bell ringing. Jean said: "These bells look new but they are over 50 years old. We like to come to the cathedral, not to give recitals, but just to have fun giving demonstrations on how to ring the bells properly."
Canon Ian Stockton wants events like these to boost the cathedral's profile.
He said: "We have lizards and snakes downstairs and people have come just to see those, but they will also see we have a cafe, they may not have known that is part of the hospitality we offer."
In the longer term, he also hopes first-time visitors will return.
"We hope that people having come today, having tasted things outside and having visited the cathedral that they will pop in again," he said.
"It is also a Blackburn with Darwen Council initiative in partnership with the cathedral and this is another good sign of us working together."
Joe Wilson presents the faith programme on BBC Radio Lancashire from 06:00 each Sunday.