Lancashire textile mills could be 'brought back to life'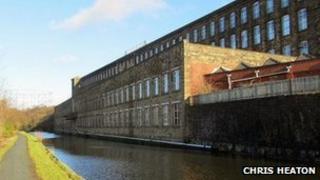 Around 540 disused textile mills in Lancashire could be brought back into use, a survey claims.
English Heritage discovered the equivalent of 175 football pitches of floor space is not being used.
The organisation, which protects historic buildings, said it hoped the research would encourage mill owners to redevelop the iconic buildings.
English Heritage's Darren Ratcliffe said the survey will identify "new solutions for local landmarks".
He said: "Redevelopment is vital for breathing life back into the mills.
"A variety of options are being explored from hotel development, to business support, to tourism activities."
English Heritage commissioned an initial two-year survey as part of an ongoing project looking at the role of Lancashire textile mills in England's industrial heritage.
The survey showed that more than two-thirds of the 1,661 such sites that once existed in Lancashire, have been demolished and almost 80% of England's surviving mills are in Pennine Lancashire.
Mr Ratcliffe added: "We will now be looking carefully at those mill sites that remain to decide which ones are significant enough to be considered for listing.
"We hope that our work will lead to a greater understanding and appreciation of the role that textile manufacturing has made to the history and economy of Lancashire, to shaping its towns and its landscape."
Steven Szostak from Regenerate Pennine Lancashire, a member of the survey steering group said: "The survey is not simply about preservation for the sake of it.
"Increasingly such properties are playing their part in modern regeneration and are being modified to an award winning standard of design and innovation.
"It presents a greater challenge than standard commercial build and refurbishment, but the rewards can be huge - both commercially and aesthetically."