Sea sparkle algae turns Blackpool sea orange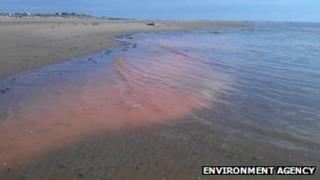 Part of the sea off the Blackpool coast has turned an orange colour due to a type of algae known as sea sparkle.
The coloured water was reported to the Environment Agency (EA) by a member of the public who noticed it near Blackpool Airport on Friday morning.
Samples of water were taken for testing and the EA said it was a non-toxic algae called Noctiluca - also called sea sparkle as it often emits light.
It said it should not cause any problems for beach-goers this weekend.
A spokesman for the EA said: "Algae is naturally occurring and is often the result of sunshine and calm sea conditions.
"We have acted quickly to identify this substance in order to protect people and the environment. Sea sparkle is harmless and non-toxic and shouldn't cause any problems to the public and beach users this weekend."
He added: "We have worked closely with Blackpool and Fylde Borough councils and have shared this result with them.
"If members of the public see any discolouration of the water in other locations, they can call our 24-hour incident hotline."