Blackpool social club Layton Institute shuts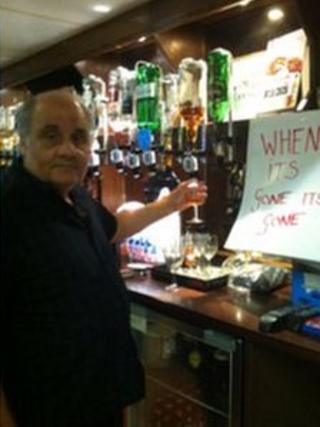 It should have been gearing up to celebrate its centenary year but instead one of Blackpool's best known social clubs, the Layton Institute, has closed its doors for the last time.
Hundreds packed the club to say an emotional goodbye to the Institute on Sunday night.
Members still seemed shell-shocked at the news that their club was closing because of financial problems.
The club was made famous by Paul O'Grady's creation Lily Savage when he filmed his Live from the Lilydrome TV show there in 1995.
It has also been graced by the likes of Joe Longthorne, the Nolans and Matt Munro.
"This will rip the heart out of the Layton," said Ronnie Jones, 37, a club member of 32 years who also works on the door.
"It is such a close-knit community in here; it's like a support network.
'I'm gutted'
"I've had so many people in tears on me but I am worried about the older members who come in for a game of bingo and meet their friends. They won't have anywhere else to go."
It is a double blow for the Layton district after the Windmill Pub was replaced by a Tesco Express in 2010.
"I'm gutted," said Nicky Shorrock, a member of 28 years.
"This has been the best club in terms of shows and facilities in Blackpool and no-one can believe a club of this stature could close."
"Paul O'Grady was fantastic and brilliant for the club but we didn't need him to get them in - the club was bouncing anyway," said committee member Trevor Taylor.
"We used to have coaches coming here from all over the country and they queued right round the corner to get in."
So where did it all go wrong?
"Members haven't been supporting it for the last four years," added Mr Taylor.
"We've been hit by the smoking ban and cheap beer available at supermarkets.
"We cut expenditure by £300,000 then but this last year the income has dipped."
The building is valued at £1m and Mr Taylor said the committee's plan was to sell it and buy a smaller club.
He confirmed it had received a low offer from a potential buyer but said it would be up to the members to decide its fate.
Committee member Ray Fleetwood said the closure was "a sign of the times as social clubs are struggling".
'Good value'
He said it was evident as Central WMC, another established club in the resort, was now restricting its opening hours.
A spokesman from the Club and Institute Union (CIU) said: "Sadly, a small number of clubs are closing due to a number of reasons, including the economic climate and changes in social trends and lifestyle.
"However, there are still a large number of clubs that continue to provide good value and entertainment for members in their area."
As well as the concert room, the club has a lounge, bowling green and four snooker tables, and an abundance of dart players with three ladies teams alone.
The club's collection of silverware sits proudly above the games room bar and a collection of war memorabilia from ex-service members.
The two full-size snooker tables were the best in the area - bought from the World Snooker professional qualifiers and the same standard as the match tables used on TV.
Blackpool snooker players Steve and John Meakin both practise there and are life members.
Steve is a former professional and John is two-times winner of the Gazette Cup, the Fylde's top snooker tournament, and the entire family were life members at the club.
John Meakin said: "It's terrible news. Our whole family come here all the time and we will really miss it."
His wife Sharon said: "I hope someone buys it and keeps it open - if it was knocked down I'd be heartbroken."
For the Institute's 27 staff, they were also mourning the loss of their livelihoods.
It was an emotional night for the club's steward David Sawyer. Now 63, he has given the Institute 40 years of service.
"It's a very hard day to see such great staff go. I've spent my life with these people.
"This place holds a lot of memories for me; I met my wife here, brought up my family with this club and I have made such a lot of special friends through it."
He added: "But don't tell the wife it's shutting - I need somewhere to escape to!"