Skelmersdale £20m revamp plan submitted after delays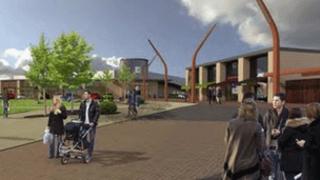 Plans for a multi-million pound revamp of Skelmersdale town centre have been submitted after six years of delays.
The scheme, which could create about 350 jobs, features a five-screen cinema complex, new restaurants and shops, a petrol station and public spaces.
Developer St Modwen said the scheme was delayed and scaled back due to the recession.
Initial plans to include the building of 1,000 homes have been scrapped. A decision is expected later this year.
The scheme was also put on hold because of proposals for a large retail development in neighbouring Kirkby, which were rejected by the government in 2009.
The plans for a stadium and shops, submitted by Tesco and Everton Football Club, would have negatively affected the Skelmersdale development, St Modwen said.
Michelle Taylor, of St Modwen, said: "The participation of the local community has really supported the efforts of the partners, who have worked hard to keep the plans alive throughout the recession."
The Skelmersdale proposal has been welcomed by residents, and MP Rosie Cooper said the scheme gets "a massive thumbs up".
She added: "I very much welcome this long awaited and greatly anticipated planning application."
A children's park and youth zone would also be created.
Mark Perks, Lancashire County Council cabinet member for young people, said: "We are determined to deliver first class services for West Lancashire's young people."