Mayor sets Preston Guild 2012 celebrations under way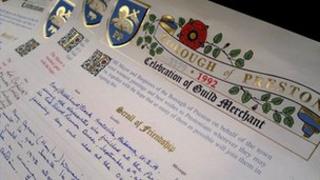 A celebration in Lancashire which takes place every 20 years and was first held in the 12th Century has been opened.
Preston Guild was proclaimed by the Mayor of Preston Councillor Carl Crompton at the city's Flag Market.
This is the first guild of the 21st Century and the first since Preston in Lancashire was granted city status in 2002.
King Henry II granted Preston the right to have a guild merchant in 1179 and gave the town its first royal charter.
The guild proclamation took place on the steps of the Harris Museum and stated that the guild is coming and summoned all those wanting to attend.
Mr Crompton, said: "The first proclamation heralds the start of this year's guild celebrations and all that Prestonians have been looking forward to for the last 20 years.
"Mixing the traditional words and ceremony with the new Guild anthem and street performances brings the focus back to the 21st Century. I am really excited and honoured to be Guild Mayor and part of this wonderful and unique occasion."
The core 10 days of the guild runs from 31 August until 9 September and includes a wide range of events from a city procession to a major outdoor concert in Avenham Park featuring Spanish tenor Jose Carreras and Welsh mezzo soprano Katherine Jenkins.
The first guild gatherings were occasions to update membership of the guild merchant without which traders, craftsmen and merchants could not do business in Preston.
Its first reliably recorded celebration was in 1397, when it was already more than two centuries old.
These gatherings for renewing membership were infrequent and it became accepted that they were needed only once in a generation.
As a result, from 1542, Preston Guild took place every 20 years.