Christian book shop celebrates 35 years of business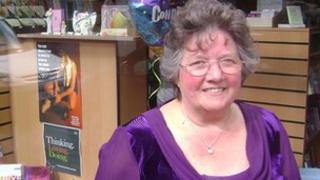 A Christian book shop in Chorley is celebrating 35 years of trading without making a loss.
On each of its yearly accounts the Two Worlds Christian Book Centre has either broken even or shown a profit.
The founders, Miriam Ogden and Gillian Lester, said their economic record is partially down to divine guidance.
Gillian Lester said: "We always say thank you Lord and if anything goes wrong we always say 'Lord it's not our business, it's yours'."
The two claim that when difficult decisions have had to be taken there always seemed to be an unseen guiding hand that has shown them the right direction.
As trustees and customers gathered for an anniversary celebration at the Avondale Road shop, Miriam Ogden spoke about the centre's early days in a small room above a hairdresser's in Gillibrand Street.
She recalled: "There was an evangelist named Duncan Leighton who lived in Chorley and had a gospel tent. During the summer months he would go round different towns with his tent.
"He also carried with him a little box with books in.
'Ploughed back'
"He didn't tour in the winter, so we rented a room above the barber's, got a table and spread the books out and that's how it started."
Ms Ogden is clear that the book centre is a spiritual, not a commercial, opportunity.
"All the volunteers, the trustees and everyone who works at the book shop, do not get paid," she said. "All the money we make is ploughed back into the book shop or used to help the people of Chorley."
In 1986, with the shop now in Avondale Road and flourishing, the ownership became a trusteeship of four people in overall control.
As the years went on the book shop diverged to encompass cards and religious artefacts.
Trustee Reverend Bill Sloan said it was vital for any town to have this kind of Christian focus.
He said: "Society appears to be fragmented and young and older people seem to have a lack of direction.
"A facility like this enables them to just start thinking. I think it is a very good thing, a positive thing that might enable them to find some direction for their own lives."
Another trustee, Yvonne Barkby, believes their faith in God has enabled the shop to thrive.
"I can only put it down to God's goodness. A lot of Christian bookshops, even bigger ones, have closed or struggled in the North West," she said.
The trustees say support from local schools and churches has been vital, but they are also grateful to the regular customers.
Valerie Bowling, who travels to the shop from nearby Euxton, said: "I come a lot because I read an awful lot of Christian books.
"They are also such nice people and I think it is great having something like this on our doorstep. I love it."
Miriam Ogden believes many in the town would be surprised at their financial track record.
She said: "I keep thinking would someone just go around Chorley and find out how many shops have been here for 35 years?
"How many made a profit in most years and then have given the money back to the people of Chorley?"
Joe Wilson presents the faith programme on BBC Radio Lancashire from 06:00 each Sunday.