Blackpool club fire: Manager charged with arson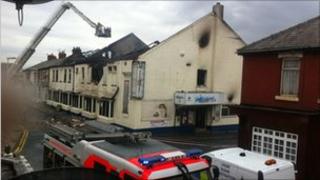 A 30-year-old man has been charged with causing a fire which destroyed the social club he managed in Blackpool.
The fire, at the Trades and Social Club in Chadwick Street last October, was so severe that the top floor of the building had to be demolished.
Barry Griezans, from Summerville Avenue in Staining, Blackpool, has been charged with arson recklessly endangering life.
He is due to appear before Blackpool magistrates on Tuesday.