Pendle Council to tighten cemetery regulations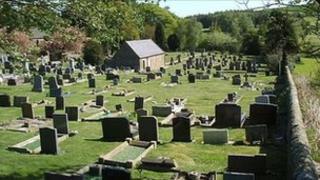 A Lancashire council is tightening its cemetery rules after people built rockeries and erected railings around graves.
Pendle Councillors will vote next week on amending controls in the borough's six cemeteries.
Council leader Joe Cooney said people would be allowed to build kerbs around their loved-one's grave but these would be subject to council scrutiny.
The council said 450 graves currently breached its regulations.
The rules include keeping flowers, shrubs, structures and other items on graves within 18 inches (45cm) of the memorial stone base and no kerbs around the graves.
A report to be presented to Pendle Council Executive on 30 August recommends a compromise of letting people install half and full-length kerbs around graves but subject to using an approved mason and a council permit.
There will be a fee for permits.
However the report said that cemetery staff would need to take "sensitive but firm action to enforce the new regulations and remove unauthorised structures."
It also urged councillors to back cemetery staff when they removed unauthorised memorials from graves.
'Elaborate structures'
The report said: "Elaborate and substantial structures have been erected without permission, often discretely in the evenings and at weekends."
Memorial Safety Inspector Rob Careswell said some of these unauthorised structures included railings and rockeries.
"People are grieving now more openly," he said.
The council is concerned about a "creeping change to the character of our cemeteries, worsening standards of maintenance and an impossible situation for our staff who, when they attempt to enforce the regulations, frequently encounter a hostile reaction."
Officials have reported frequent complaints about the condition of the cemeteries and dissatisfaction by those who obey the regulations and see others flouting them.
They cited a recent example in Colne where a request to place kerb edgings was refused as being out of line with the regulations when there were several graves with unauthorised kerbs already there.