Police and crime commissioner elections: Lancashire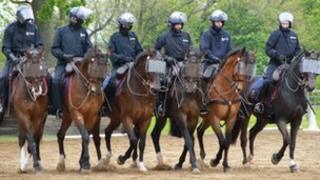 On 15 November 37 police and crime commissioners will be elected in England along with four in Wales.
The PCCs, as they will be known, will be tasked with scrutinising their force and holding it to account. They will also be able to hire and dismiss the chief constable and set the force's budget.
The commissioners will be paid and are supposed to empower local people into having a say on how crime is tackled in their area.
Nominations for candidates in Lancashire have now officially closed.
BBC News has taken a look at each of the police forces ahead of the elections.
Lancashire Constabulary
Lancashire Constabulary is the 10th biggest force in England and Wales, and was set up in 1839. It serves approximately 1.5m people across the Red Rose county.
Chief Constable Steve Finnigan was honoured with a CBE in the Queen's Birthday Honours List in June 2010.
He heads up a force which is rated as one of the best performing in England and Wales.
The force has five other chief officers: Deputy Chief Constable Chris Weigh; three assistant chief constables - Mark Bates, Peter White and Andy Rhodes; and Director of Resources Ian Cosh.
The constabulary's headquarters is based in Hutton, Preston.
The force cites neighbourhood policing, diversity, quality, protecting people and value for money as its key issues.
The constabulary said partner organisations and working with the local community was critical to its success, particularly the Lancashire Neighbourhood Watch network which the force describes as a "key partner".
The force is known for its mounted police division which celebrated its centenary year this year. It has 18 horses, all named after Lancashire towns.
The Lancashire Police Authority (LPA) has a stated aim to "secure the maintenance of an efficient and effective police force for their area".
The LPA, which is made up of a panel of 17 members, will be wound up after the election.
Funding
The force gets a total of £105.7m grant from central government for the year.
Following the government's budget cuts to police in England and Wales following the spending review, the Lancashire force has had to make savings of £42.7m.
It has already made cuts of £33m and accounted for savings of £40m, meaning the force has £2.7m to lose before 31 March 2015.
There were 3,659 police officer posts when the spending review was announced, and there will be 537 fewer police officer posts by the 2015 deadline.
This year's council tax precept - the amount of money which each household pays towards the area's policing - is £149.93 for a Band D property, which amounts to a 3% rise following last year's freeze. It is higher than neighbouring force Greater Manchester (£144.33) but just below Merseyside (£150.62).
Crime and performance
There has been a drop in robberies, racially-motivated crimes and burglaries compared with the previous year.
However, figures comparing April 2011 with March 2012 showed a rise of nearly 6% in the number of people being injured through violence.
Mr Finnigan praised the organisation's "dedication" and "commitment" amid challenges caused by budget cuts.