Bacup Coco-nut dancers' plight raised in Parliament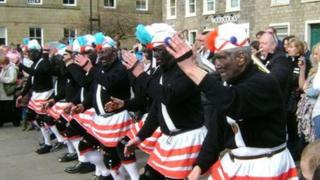 A historic Lancashire dance event under threat by plans to charge up to £1000 for traffic management has been raised in Parliament.
The Britannia Coco-nut Dancers from Bacup have staged the annual Easter Boundary Dance for more than 150 years.
Rossendale Borough Council said there is a cost to providing road closures.
The case is now going to be looked into by the government after Rossendale and Darwen MP Jake Berry said the bill endangered the morris dance tradition.
'Custodians of tradition'
Joe Healey, secretary of the Britannia Coco-nut Dancers who are also known as the Nutters, said the group have never been charged before for road closures.
"We can't afford to pay this," he said. "We are custodians of this tradition and give our time freely... and we donate any money we raise on the day to two local charities.
"The bill would be in excess of the money we raise on the day.
"The Easter Boundary Dance is a very old tradition which has come through all sorts such as wars so why have we been stopped in our tracks by funding?"
The group has a meeting with Rossendale council next month.
Mining traditions
Ray Bennett, highway and traffic manager for Rossendale, said: "We're currently working with Rossendale Borough Council's events committee, and the Britannia Coconutters, to help them identify any road closure orders, traffic management, and other resources which may be needed.
"There is a cost attached to providing a road closure and this is something we'll discuss with the group as part of their traffic management plan."
Conservative MP Jake Berry said he is pleased the Secretary of State is raising his request with his colleagues.
"I hope this issue can be resolved when the Nutters, police and council officials meet next month," he said.
The boundary to boundary dance traditionally takes place in the Rossendale Valley on Easter Saturday over a 12 hour period, taking in various pubs and locations in the town.
The Nutters blacken their faces to reflect the mining traditions of the group.