Painting of 'English Giant' Frederick Kempster unveiled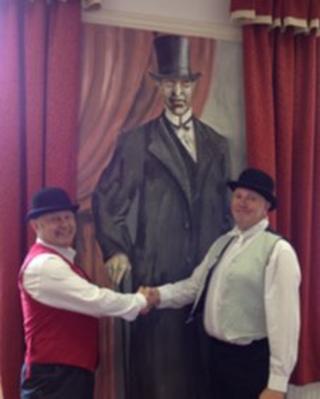 A life-size painting of an 8ft 4in showman who became known as the English Giant at the turn of the 20th Century has been unveiled in Lancashire.
The painting of circus entertainer Fred Kempster is the centre-piece of a heritage exhibition in Wilpshire.
Kempster, also known as the Blackburn Giant, was thought to be the tallest man in England at the turn of the 20th Century, reportedly standing 8ft 4.5in.
The exhibition tells the professional giant's life story.
Historians Martin Cottam and Bernard Kennedy have put the Blackburn Giant exhibition together as part of a heritage festival at Child Action North West.
As well as the 9ft (2.7m) painting, there is a chance to see the actual size of shoes he would have worn and Kemptser's typical breakfast.
'Belonged in Blackburn'
Kempster was born in London in 1889 and later moved to Blackburn. He died in Blackburn's Queen's Park Hospital in 1918 and was buried in the town's cemetery in a 9ft coffin.
He was listed in the Guinness Book of Records from 1967 to 1993 as one of the tallest men in England.
In April his giant-sized underwear - found at a house in Clitheroe in the 1970s - was sold at auction.
Mr Kennedy, from Blackburn, went to the auction in North Yorkshire with the intention of buying the long-johns.
He said: "I wanted to bring them back to Blackburn but I only had £300 and they sold for £550.
"It's a shame because I feel they belonged in Blackburn."
Up to 1,000 people are expected at the heritage open weekend in the former Blackburn Orphanage.