Large blaze destroys garage and shops in Lancaster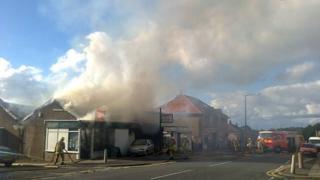 A large fire has destroyed a car repair business in Lancaster and caused extensive damage to two adjacent shops.
The blaze broke out at Parkfield Garage on Bowerham Road at about 16:00 BST on Wednesday. Eight fire crews tackled the fire at its height.
It then spread to the Woolfwood animal charity shop and a convenience store.
A number of residents in the area were evacuated over safety concerns about gas cylinders in the garage. One fire crew is "damping down" at the scene.
Firefighters got the fire under control at about 21:30.
An investigation has been launched into the cause of the fire.