Ribble cockle beds 'should not be reopened' in October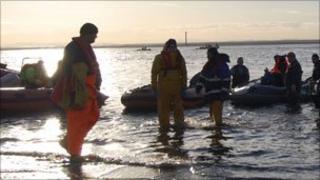 Cockle beds in the Ribble estuary should not be reopened next month, the Maritime and Coastguard Agency (MCA) has said.
The Foulnaze Bank beds were closed last November after 26 coastguard rescues of ill-equipped and unlicensed boats during two months of cockling.
Cockling resumed for a short time in August under tighter regulations and will resume again in October.
The MCA said there would be dangers involved in launching in darkness.
In August, the North West Inshore Fisheries Conservation Authority (NWIFCA) re-opened the beds for the first time since November, with tighter guidelines for fishermen, including the requirement to have a permit.
It has now approved plans for the beds to be opened again for eight days in October - subject to cocklers paying for a £500 licence and obeying new rules.
An MCA spokesman said: "The MCA wishes to inform fishers that we advised against the opening on safety grounds.
"The fishery opening last August was a success because we had a daylight fishery with benign weather conditions.
"The October fishery will involve launching in darkness on spring ebb tides and marginal weather conditions so there are obvious dangers with this operation."
He advised fishermen to watch the weather forecast and "take all necessary precautions to avoid any incidents and not to take undue risks in the pursuit of a decent harvest".
"All conditions imposed by the North West Inshore Fisheries Conservation Authority (NWIFCA) must be complied with for your own safety. If there are any incidents where we see these conditions being flouted, we will take the appropriate action," he added.
Dr Stephen Atkins, chief executive of the NWIFCA, said the safety of cocklers was a priority and fishing officers would be on the Foulnaze Bank on each of the fishing tides.
Cockling resumes for four days from 1 October and then 15-18 October.