Chorley's Astley Park war memorial renovation plans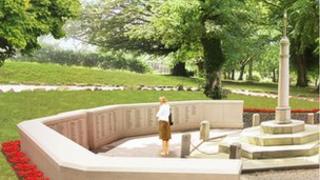 The names of more than 700 of Chorley's servicemen and women are to be added to the town's war memorial in time for Remembrance Sunday.
As part of the Chorley Remembers project, 741 names of the fallen will be engraved around the town's war memorial in Astley Park.
Work on the memorial, first unveiled in 1924, is being partly funded by a heritage lottery grant of £270,000.
There are also plans for permanent exhibition and heritage trail.
Chairman and co-founder of the Chorley Remembers Project, Lindsay Hoyle, said: "We thought it was only right that all those who have given their lives in conflict are individually recognised on the memorial.
"A lot of work has gone into finding and researching all the names and it will be a fitting tribute for them and their families for years to come."
It is part of the wider work of the Chorley Remembers project which includes an upgrade of the Chorley Pals memorial site, a permanent exhibition at Astley Hall and restoration of the memorial arch at the entrance to Astley Park.