Bravery awards for life-saving Lancashire police officers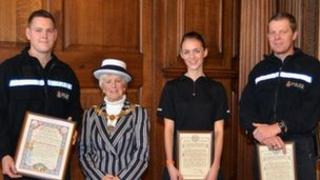 Three Lancashire police officers have received bravery awards for saving the lives of two men in north Lancashire.
The officers were presented with the Liverpool Shipwreck and Humane Society Awards in a special ceremony at Lancaster town hall.
PC Jamie Illingworth rescued an elderly Heysham man trapped in a fire and PC John Holmes and PC Nikki Kay gave CPR to a man while on patrol in Lancaster.
Ch Supt Richard Bayly said the awards recognised their "brave deeds".
PC Jamie Illingworth was called to a Heysham flat in March after a lifeline alarm was activated.
Police said that when he arrived plumes of smoke were spreading through the flat. Mr Illingworth made his way into the kitchen where the fire had started. He turned off the gas and put out the flames. He then noticed a man wedged in a corridor, unable to get up, so carried him to safety.
Lancashire Fire and Rescue Service confirmed the kitchen's polystyrene ceiling tiles had been moments from catching alight and PC Illingworth's swift actions prevented both the elderly man and himself from being killed by potentially toxic fumes.
'Life and death decision'
PC John Holmes and PC Nikki Kay were on patrol in King Street, Lancaster in July 2011 when a man collapsed and stopped breathing.
The pair performed CPR on the man until they were able to get him breathing again. He was then treated at the Royal Lancaster Infirmary.
The awards were presented to the officers by the Mayor of Lancaster, Councillor Sheila Denwood.
Ch Supt Richard Bayly said: "Our officers often find themselves in a situation where another person is at risk of harm and that officer has to make an instant decision as to what to do, which on occasion could mean the difference between life and death.
"[Their] prompt actions helped to save the lives of these residents and the award recognises their brave deeds."
The Liverpool Shipwreck and Humane Society gives awards to people who voluntarily put their own lives or safety at risk to save other people in danger.