Tasered blind man Colin Farmer to sue Lancashire Police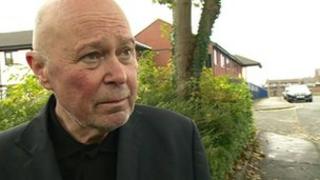 A blind man who was Tasered by a police officer in Lancashire when his white stick was mistaken for a sword is suing the force.
Colin Farmer, 62, was stunned by a policeman after reports were made of a man walking through Chorley with a samurai sword on 12 October.
Ch Supt Stuart Williams said the force "deeply regrets" the incident and an urgent investigation was under way.
Mr Farmer was taken to hospital for treatment and later discharged.
Taser withdrawn
Solicitor Sophie Khan said: "There will be compensation that we will be seeking but the first thing that Mr Farmer will be looking at is some kind of recognition that what happened there was wrong.
"It it's not just about an apology but the structure of the training and the way the police officers behaved generally."
A spokesman for Lancashire Police said it could not comment on any legal action taken regarding the incident as it was subject to an independent investigation by the Independent Police Complaints Commission (IPCC).
A force spokesman said the incident was being investigated and the officer's Taser had been withdrawn.
Mr Farmer, who is registered blind and has suffered two strokes, said he had thought he was being attacked by thugs when it had happened.
He was walking to a pub to meet friends at the time and said the Tasering had forced him to drop his stick and fall to the ground.
He said the experience had left him "shaking like a leaf" and scared to go outside.
Ch Supt Williams said the police force had "clearly put this man through a traumatic experience".
Failed to stop
He said the force had "received a number of reports that a man was walking through Chorley armed with a samurai sword".
A policeman thought he had found the suspect and discharged the Taser after the man failed to stop at the officer's request, Mr Williams said.
Mr Farmer was taken to Chorley Hospital after it "became apparent that this man was not the person we were looking for".
A man carrying a samurai sword was later arrested on suspicion of being drunk and disorderly.