Badger baiting inquiry: Two men arrested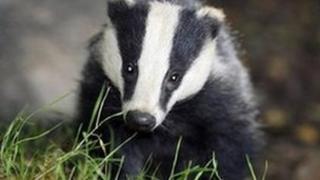 Two men have been arrested following police raids in Lancashire and Greater Manchester linked to badger baiting.
It came after police were told men had been digging up badgers in Helmshore and throwing them to dogs. A shot badger was also found in the area.
Police raided properties in Haslingden and Rawtenstall in Lancashire and in Tyldesley, Greater Manchester.
Two men, aged 54 and 53, have been arrested on suspicion of interfering with a badger sett.
They have been released on bail pending further inquiries.
'Traumatic death'
Police said a number of items were seized during the raids including computers, mobile phones, shotgun cartridges, vehicle registration plates, a suspected stolen horse box and £10,000 in cash.
Lancashire Constabulary's wildlife crime officer Mark Thomas said: "Badger baiting is a particularly cruel activity and it is clear that on this occasion at least one badger suffered a violent and traumatic death.
"As with many other wildlife offences, the cruelty to the badgers only scratches the surface in terms of the criminality that is being committed.
"Those who have little concern for injuring an animal are often involved in other activities like theft and vehicle offences.
"We will continue to target those who we believe are involved in badger baiting and the associated crime that comes with it."