The Bishop of Blackburn retires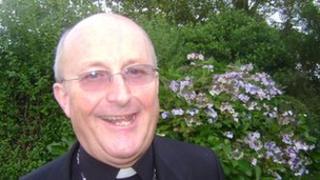 The Bishop of Blackburn has urged the Blackburn Diocese to continue his work for those living in hardship when he retires.
The Right Reverend Nicholas Reade made the comments during an emotional service to mark his retirement.
A packed congregation at Blackburn Cathedral paid warm tributes to the Bishop who is retiring to the Sussex coast.
The Bishop has campaigned nationally for a better deal for those in need.
'Only just started'
Bishop Reade, who has been in the post for eight years, quoted St. Francis of Assisi throughout his sermon.
When speaking about eternal life the saint said "we have only just started".
He said: "We are a diocese where a quarter of all children are living in families below the poverty line.
"A child born in Burnley or Blackpool is likely to live six or seven years less than in a different part of the diocese. Income levels are considerably less than other parts of the country and one in five of our houses are considered unfit."
The Bishop asked the diocese to encourage the young to flourish and to make sure growth in church activities continued.
Many of the county's church leaders were at the Thanksgiving Service to mark Bishop Reade's contribution to Lancashire.
The Reverend Stephen Poxon, Chair of the Lancashire District of Methodists, said: "We are very sad to see him go."
'A real gift'
Bishop John Goddard, the Bishop of Burnley, said: "We must remember what he has brought in mission, what he has brought in prayer and what he has brought in the balance of the diocese.
"He has set us forward, away from maintenance, and very much in growth and development."
The Bishop of Lancaster, the Right Reverend Geoff Pearson, said: "I think for the diocese he has been a real gift."
The Vicar of Lancaster, the Reverend Chris Newlands, paid tribute to the Bishop's spiritual vision.
He said: "Bishop Nicholas has been a wonderful pastor to the clergy and all the people of the diocese. He has seen the whole diocese as his parish and has been a wonderful parish priest to everyone in it."
Surrounded by well wishers Bishop Reade, who was born Sussex, said he had "come to love Lancashire".
As he prepared for retirement with his wife Christine, he said: "Any future I may have will always be bound up with the Diocese of Blackburn because I have been so privileged to be the bishop of this great diocese."
Joe Wilson presents the faith programme on BBC Radio Lancashire from 06:00 each Sunday.