Church leader heads walks to 130 Lancashire churches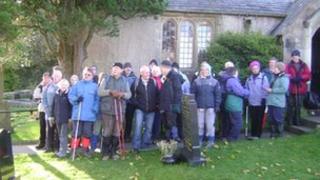 The leader of Lancashire's Methodists has successfully completed a walk to each of the denomination's churches in the county.
The Reverend Stephen Poxon visited 130 Methodist churches, chapels, schools and homes for the aged in the county.
The walk took 30 days to complete and finished at a celebration in Silverdale Methodist Church.
The Reverend Poxon said the walk had given him a "new perspective of Lancashire".
He said: "I'm in my 13th year in this post and I wish I had done this walk 12 years ago because it has given me a new perspective of Lancashire, the people and the churches I seek to serve."
'Year of Prayer'
Mr. Poxon, who is soon to leave his post for a yet to be announced new position in the church, began his walk in the Ribble Valley, at Paythorne, on Palm Sunday.
Since then, in two and three-day bursts across the summer, Mr. Poxon has visited his entire district.
He said: "We designated 2012 as a Year of Prayer.
"I thought I was making a joke when I suggested I should pray in each of our churches but people took me seriously and out of that came this prayer walk across Lancashire."
Forty people joined Mr. Poxon for the final leg of the walk which began in north Lancashire at St Cuthbert's in Over Kellet. They walked through Tewitfield and Warton before finishing in Silverdale.
Some of the party had taken part in over two thirds of the prayer walk.
Ian Kitchen from Rishton completed 23 of the 30 stages.
He said: "We've probably spoken to around 500 people in 90 odd churches.
"We have heard wonderful stories about what God's doing in these churches and it's been an inspiration."
Another walker, Madeline Riley, also from Rishton, said: "I've heard recurring stories from various people about the problems they face and the different ways they have tackled them.
"I've heard how they have come out of the other side and it is wonderful to hear."
Walker Steve Colling believes visiting different churches has given him a chance to experience new ways of church.
"I've learned different ways of working with children and young people," said Mr Colling.
"We've seen new ideas for fellowship and how buildings have changed."
Mr. Colling is already thinking of revisiting some of the venues he has been to.
He remarked: "We've also made lots of contacts across Lancashire and now have some new places to stay."
Lancashire Methodist's Dave Davenport highlighted how the walk had taken him to places he would never have seen.
"I've met lots of people I would never ever have met in any other way. I've heard stories that I would never have heard in any other place," he said.
As the prayer walk came to a close, Mr. Poxon reflected on the challenges of his journey.
"On August Bank Holiday Monday we'd asked people to come out as we were leaving the Church at the Mount in Fleetwood.
"When we got to the church it was pouring with rain. To be fair, 30 people turned up," said Mr Poxon.
"We took the ferry, and then, walking from Knott End to Pilling along the sea wall was horrendous with the wind and rain hammering down. Yet people's spirit kept up, so it turned out to be good day."
He said: "I think the high point has been the people we have met and also hearing what the church is doing.
"I'm proud to be part of a church that seeks to serve the community and show that the love of God is active amongst them."
Joe Wilson presents the faith programme on BBC Radio Lancashire from 06:00 each Sunday.