Camelot Theme Park 'should remain leisure site'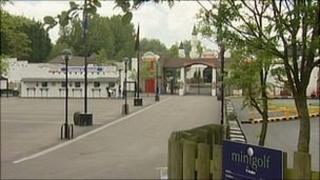 A Lancashire theme park that has closed after 29 years should remain a leisure site creating new jobs, a council leader says.
Camelot Theme Park at Charnock Richard, near Chorley, employed more than 150 people during the summer months.
Operator Knights Leisure announced on Sunday it would not reopen next season following a fall in visitor numbers.
Chorley Council leader Alistair Bradley said: "We need to see what we can do to bring jobs back to that site."
Roy Page, managing director of Knights Leisure, said poor summer weather and events such as London 2012 and the Queen's Jubilee had caused "a major impact" on visitor numbers.
Mr Bradley said the news was "very disappointing".
"It's been a very popular venue, but at times of recession people are looking at every pound they spend," he added.
"We need to see what other uses that land can be put to. It has a long-established use as a leisure site for people having fun.
"We need to see what can be done to keep jobs and to keep that leisure use in Chorley."