Paul Maynard MP: 'Blackpool facing beaches catastrophe'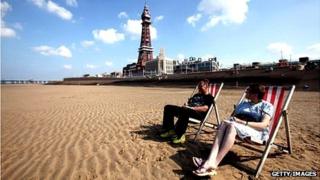 Blackpool is facing a "looming catastrophe" over the state of its beaches, a local MP has warned.
Paul Maynard, Conservative MP for Blackpool North and Cleveleys, said it was unacceptable beaches had failed water safety tests.
The Environment Agency found two Blackpool beaches and one at Cleveleys failed to meet its standards for clean water.
Blackpool Council has insisted that water quality is a key priority.
Resorts have two years to improve their water quality before the Environment Agency introduces tougher standards in 2015 - which could see failing beaches having to display warning signs.
"Given the importance of our tourism industry, no-one should underestimate the looming catastrophe of having to put signs up saying Blackpool and Cleveleys have beaches which are too dangerous to bathe in," said Mr Maynard.
"The councils must appreciate the gravity of this situation.
"It is unacceptable that local beaches have failed their water safety tests," added Mr Maynard.
Mr Maynard called on the council to work even more closely with the Environment Agency and United Utilities and "listen to the sound and sensible advice of the Marine Conservation Society".
Two months ago the Marine Conservation Society, a coastal protection group, warned that holidaymakers could desert the town unless the beaches were cleaned up.
Blackpool North, Blackpool South and Cleveleys, also on the Fylde Coast, did not meet the mandatory standard.
Blackpool Central beach has passed this year after failing in 2011.
'Difficult challenge'
The data comes two months after the summit of United Utilities, Blackpool Council and the Environment Agency looked at ways to clean the coastline.
Gary Coleman, Blackpool's cabinet member for regeneration, said: "The quality of our bathing waters is a key priority for the council,"
A consistent series of poor ratings in Blackpool over the years led to The Turning Tides Summit 2012 which aimed to help groups to work together to clean up the Irish Sea and the rivers that feed it.
Mr Coleman said the summit showed that no single body could tackle the problem in isolation.
"It's a difficult challenge but its one we are facing head on," the councillor added.