Missing David Guilfoyle: Ribble Valley woods searched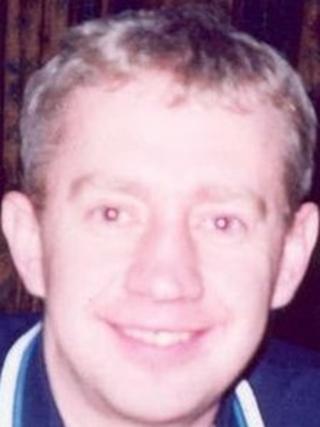 Police are searching woods in Lancashire for the body of a man missing since 2005.
David Guilfoyle, 37, of Accrington, disappeared after leaving a pub in the town after the European Champions League Final on 25 May 2005.
The search follows a confession and information from Shane Fitzpatrick who was convicted of his murder in 2006.
Twenty-five police officers are searching woods in Bolton-by-Bowland in the Ribble Valley for his remains.
Lancashire Police said Fitzpatrick, who denied murdering Mr Guilfoyle during his trial, has now admitted his guilt, expressed remorse to two police officers and said he had buried the body in a shallow grave in the wood.
He told the officers he had driven the body out there in the early hours of the morning following the murder.
Fitzpatrick, formerly of Lyndale Road, Hapton, near Burnley, is currently serving a minimum of 20 years in HMP Garth.
He was found guilty by a jury at Preston Crown Court.
Prosecutors told the court Fitzpatrick killed Mr Guilfoyle, who was last seen leaving the Grey Horse pub in Whalley Road, out of revenge after he began to see his ex-wife.
Specialist teams, including forensics officers and police dogs from Lancashire Constabulary, are searching the area.
The woodland being examined is a similar size to a football pitch with a stream running through the middle of it.
Police are also being helped by members of the Army and two forensic archaeologists.
Fitzpatrick is believed to have had knowledge of the area as he was a keen fell runner.