Mobile phone light saves woman trapped in Morecambe Bay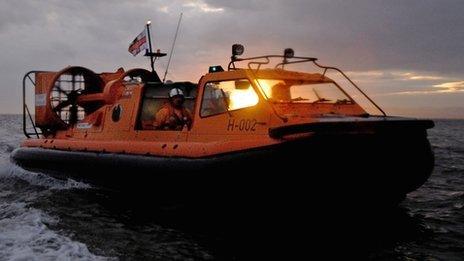 A woman trapped waist-deep in mud and "minutes" from drowning was rescued by guiding a hovercraft with her mobile phone light in Morecambe Bay.
The woman was saved by Morecambe Royal National Lifeboat Institution (RNLI) on Tuesday evening.
"We probably only had a few minutes left before the tide would have covered her completely," said Harry Roberts, RNLI senior hovercraft commander.
It is not known how the woman came to be trapped in the mud.
The RNLI volunteer crew and the local coastguard rescue team were called out at 18:30 GMT after reports of someone stuck about 400m from the Morecambe RNLI lifeboat station.
"She was very scared but fortunately was sensible enough to realise the light on her phone would help us find her," said Mr Roberts.
"She was stuck fast, initially knee deep in the mud but by the time we reached her she was up to her waist and the tide was coming in very quickly. As we managed to extract her from the mud, the water was up to her chest."
The woman was trapped in a deep gully and it took 20 minutes to get her out.
"We don't know how she had got into the mud or where she had come from, but we all hope she makes a full recovery," said Mr Roberts.
Related Internet Links
The BBC is not responsible for the content of external sites.