Blackburn fans launch Rovers Trust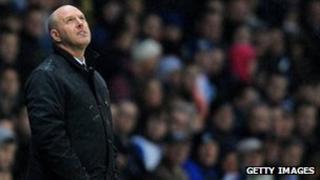 Blackburn Rovers fans who have joined forces to try to buy the club have unveiled their campaign strategy at a supporters' meeting.
The Rovers Trust was officially launched at the event at Blackburn Cathedral earlier.
Its plans to buy the club from owner Venky's, who bought Rovers for £43m two years ago, have been supported by MPs and former players.
The trust has already raised almost £3m from fans buying shares.
Venky's have previously denied the club, which was relegated from the Premier League in May, is for sale.
The trust now wants to reach its nominal target of £10m, pledged by fans in shares of £1,000 each, to form the acquisition capital it would use to try to gain ownership.
Trust co-chairman Oliver Jones said: "We believe the future of Blackburn Rovers lies in a community and supporter ownership model and we have now put everything in place legally and structurally to ensure this can happen at any time.
"We now need all supporters to join Rovers Trust in their thousands to show the club we mean business and are here to stay to protect the history and legacy of Blackburn Rovers."