Ben Brown jailed over Blackpool liquid drug-dealing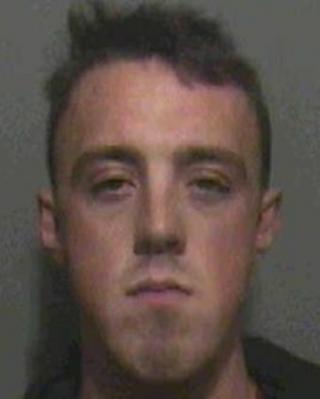 A Lancashire man who made a "crude mix" of mepehdrone and alcohol in his home and sold it in Blackpool clubs and pubs has been jailed for three years.
Ben Brown, 22, from Bailey Avenue, St Annes, pleaded guilty to possession with intent to supply a class B drug at Preston Crown Court.
Police found 2,000 bottles labelled Ten Ten Liquid Love in a raid on his home.
Analysis showed the liquid was a mixture of vodka, blue water and mephedrone, said police.
Liquid Love usually originates from the Netherlands and contains liquid ecstasy and GHB, police said.
Lancashire Constabulary said officers were alerted after door staff in Blackpool confiscated a number of bottles of Brown's concoction.
A raid was carried out on his home in November 2011, where officers discovered over 1,100 filled bottles and 9,000 empty bottles.
Det Con Chris Gallagher said: "This is the first case of its kind that we have come across in Lancashire and so it is hard to put a value on the drugs that Brown was selling, but we estimate he was making between £5 to £20 a bottle.
"Over 1,100 prepared bottles were ready to hit the streets and we know that some had already made their way into the resort's bars and nightclubs.
"Although a user can never be sure exactly what they are taking, they were being misled into thinking they were buying one thing but in fact were being given something entirely different."