Whinney Hill landfill smells: Accrington residents take legal action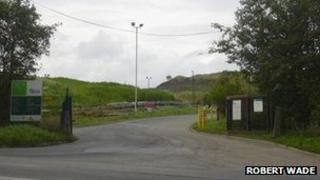 Eighty Lancashire families plan legal action over what they say are foul smells coming from a landfill site.
More than 100 people attended a meeting on Thursday to plan joint action against Sita UK, which runs Whinney Hill Road site in Altham.
Sean Fenton, who lives on Tunstall Drive, said the smell from the site could be "unbearable".
Sita said operations were in line with "robust environmental legislation and regulated by the Environment Agency".
Mr Fenton has been living in the estate next to the site since 2004.
"It is a horrible sour smell and since I moved in it has got much worse.
"It is unbearable at times - it is worse in the summer and at night.
"You can't open your windows or go in the garden or put washing out."
Compensation for residents
A firm of solicitors specialising in environmental law is taking on the case on a "no win, no fee" basis.
Solicitor Gwen Evans, who organised the meeting, said: "There has been an intermittent but regular odour coming from the landfill site from before 2006 which has impacted on the lives of those living in the area directly surrounding it.
"This legal claim is to put an end to this once and for all and a secondary claim for compensation for residents affected by the odour."
She said Sita UK would be formally notified of the action in the next few days.
In a statement Sita UK said the site "provides an essential service in the safe and responsible disposal of waste from authorities, businesses and industry".
"The company meets regularly with community representatives and residents to ensure the site is operated in line with its environmental permit and to provide a forum for feedback," it said.
On its website the Environment Agency said it had been working with Sita over the last year "to ensure it carries out work to reduce the level of odour being released from the site".