MP tells Commons liquid nitrogen drinks should be banned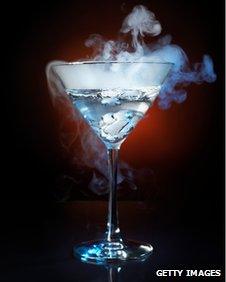 Health ministers have been urged to ban the use of liquid nitrogen in drinks after a Lancashire woman had to have her stomach removed.
MPs discussed a possible ban in a Commons debate called by Gaby Scanlon's MP David Morris.
The eighteen-year-old became ill after drinking a cocktail containing the frozen gas at Lancaster bar Oscar's.
The Conservative member for Morecambe and Lunesdale told MPs a ban was essential to prevent more injuries.
"My message to all young people is liquid nitrogen in drinks are not worth the risk," he said.
"I call on the minister and the ministers in the department of health to support an outright ban on liquid nitrogen as an ingredient.
"If we take this opportunity now then hopefully we can avoid any other young people going through the shock, pain and disruption that Gaby Scanlon did."
He added: "I believe that when someone walks into a bar or restaurant in this country they have a right to know what is being served to them and that what is being served to them is safe.
"We have a duty to enforce that."
Mr Morris said Miss Scanlon from Heysham drank two "Nitro Jagermeister" cocktails.
"These drinks look very appealing because the nitrogen boils in the glass and creates a smoke effect," he said.
He added he could understand why Miss Scanlon had tried the drinks and that her actions were "those of a normal 18-year-old."
He said: "When she bought the drinks she had a reasonable assumption that something she bought in a licensed bar was safe to drink.
"But sadly the complete opposite proved to be the point and true. What followed is truly horrific.
"The liquid nitrogen froze her stomach and it boiled her stomach and caused her stomach to rupture leaving her in the sort of agony that is hard to imagine."
Following the incident in Lancaster, the Food Standards Agency issued a warning about the dangers of consuming drinks containing liquid nitrogen.
Lancaster Council has also written to the health secretary asking him to investigate the risks to drinkers.
Oscar's has suspended sales of the drink.
Prime Minister David Cameron has written to Mr Morris about his campaign.
In a handwritten letter, he said: "This is indeed a shocking story and you are quite right to follow it up."
Related Internet Links
The BBC is not responsible for the content of external sites.