Tracey Bonnell's family in bid to extend killer's exclusion zone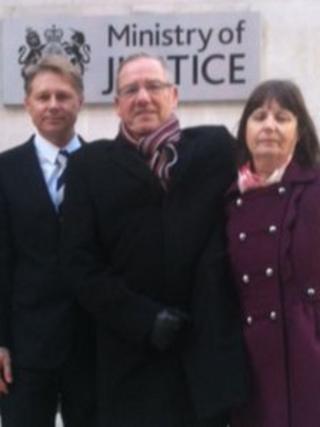 A government minister is looking into a Lancashire couple's bid to stop them coming face to face with their daughter's killer, their local MP said.
David Bonnell has served a life sentence for beating Tracey Bonnell from Lancaster to death with a piece of wood in 1997.
He has been banned from Lancashire but Tracey's parents Ken and Marie West want to extend the exclusion zone.
David Morris MP and the parents met Prisons Minister Jeremy Wright earlier.
As a paramedic Mr West's work can take him to Cumbria and Yorkshire and the couple are campaigning to have Bonnell's exclusion zone extended so the two will not come into contact with each other.
Mrs West said the meeting was a step forward.
"Jeremy had taken on board our points of view and he had researched what we were going to say before we got there, so understood exactly how we felt.
"He agreed it was unique circumstances because of Ken's job and he said he would try to help by writing to the parole board to ask for the extension that we wanted."
"My husband needs to be able to do his job efficiently which he can't do if he's always worrying about running into Mr Bonnell," she added.
Mr Morris, Conservative MP for Morecambe and Lunsdale, said the meeting was "very positive" and that Mr Wright "would look into extending the exclusion zone beyond Preston if the parole board would accept that".
A Ministry of Justice spokesperson said in a statement: "We do not comment on the content of private meetings.
"The parole board is independent and ministers cannot intervene in their decision making.
"Where applications for exclusions zones are being made, victim liaison officers should help victims identify areas they frequent and then, with advice from the department, make appropriate representations to the parole board for them to consider."
Bonnell struck his 23-year-old wife 27 times after she told him to leave their Skerton home.