Parents visit scene of son's attack in Blackburn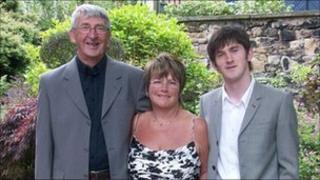 The parents of a man killed by one punch have visited the scene of his attack in Blackburn town centre, as part of an anti-violence campaign.
Adam Rogers, 24, was punched after trying to act as peacemaker in a fight on Northgate in 2009.
David and Pat Rogers are now hoping to prevent young people get involved in violence through their charity, Every Action Has Consequences.
They were joined by police and trading standards on Northgate.
Blackburn with Darwen Community Safety Partnership is also supporting them at the launch of their campaign in the town,
'Be vigilant'
Every Action Has Consequences is aimed at challenging young people's perceptions of violence and making them think about the result of their actions.
Mrs Rogers said: "We appeal to bar staff to be vigilant and always think "Check 25". Under-18s should not be drinking in pubs and clubs.
"For those over 18s who enjoy a night out, I ask you to be aware of the amount of alcohol you are consuming - you should always ensure you are in control."
Adam Rogers, a ladies' football club coach, was out with a group of friends when he was attacked by William Upton, from Rishton.
He later died from head injuries.
Upton, who was 16 at the time, was convicted of manslaughter and sentenced to four years in prison, of which he served 18 months.