Tracey Bonnell's family win bid to extend exclusion zone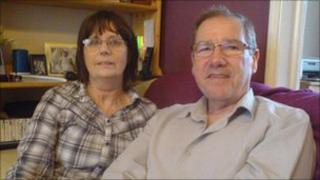 A Lancashire couple have won a campaign to ensure they will not come face to face with their daughter's killer, their local MP said.
David Bonnell, 46, has served a life sentence for beating Tracey Bonnell from Lancaster to death with a piece of wood in 1997.
He was banned from part of Lancashire but Tracey's parents Ken and Marie West applied to extend the exclusion zone.
David Morris MP said the application has been accepted by the parole board.
Mr Morris said Bonnell had been barred from an area north of Preston but is now banned from entering Preston, Blackpool or Kendal - where Mr West sometimes works as a paramedic and some of the couple's relatives live.
'Exceptional circumstances'
Mrs West said: "It was on our mind 24/7. I went to Preston for the first time in a long time about four weeks ago and I just wanted to go home because I felt uncomfortable.
"Now I've got that bit of closure I'm going to be able to move on and not worry as much."
The couple met Prisons Minister Jeremy Wright to put their case last week, and said he had offered to ask the parole board for the extra extension.
Mr Morris said: "Marie and Ken have been through a lot. I hope this decision will provide some sort of closure and allow them to move on."
A Ministry of Justice spokesman said: "Victims can request an exclusion zone to reduce the risk of them unexpectedly coming into contact with the offender.
"In exceptional circumstances the agreed exclusion zone can be altered and agencies will work together to manage the risks involved. The final decision is for the Independent Parole Board."
Bonnell struck his 23-year-old wife 27 times after she told him to leave their Skerton home.