Woman, aged 83, dies following house fire in Rishton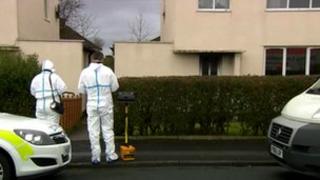 A 83-year-old woman who was rescued from a house fire has died, Lancashire Fire Service has confirmed.
The fire broke out on the ground floor of a semi-detached house in Cliff Street, Rishton, at 03:59 GMT on Wednesday.
One man escaped and two people were rescued from the house, as "thick acrid smoke" filled the ground floor, said Ben Norman from the fire service.
The fire is not thought to be suspicious, Lancashire Police said.
The woman was rescued from the ground floor and a 52-year-old man from the first floor. Both were taken to hospital.
A 53-year-old man escaped from the fire but still needed treatment for smoke inhalation at the Royal Blackburn Hospital. He was later discharged.
Mr Norman added: "Our thoughts at this time are with the lady's family and we have seen this happen too many times during a period which is supposed to bring joy and happiness.
"The property did have a working smoke alarm; unfortunately, it wasn't enough to help save this lady's life."
There are not thought to be any suspicious circumstances, according to Lancashire Police.