New Year Honours: MBE for stabbed nurse Jane Clough's mother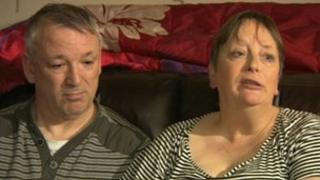 The mother of a nurse stabbed to death by an ex-partner while on bail has been appointed MBE in the New Year Honours list for changing the bail law.
Penelope Clough, 53, from Nelson fought to change to the law relating to bail for rape and domestic abuse victims.
Her daughter Jane Clough was murdered in 2010 by Jonathan Vass, after he was released on bail having been charged with rape and assault offences.
She said her initial reaction was "wow" but it was also "bittersweet".
'Team effort'
She said she was shocked when she found out her husband John Clough had not received one.
She worked with her husband to get the bail law changed and felt "gutted" but vowed to share the honour with him.
Mrs Clough said: "It's definitely been a team effort. We have done everything together so I will be sharing it 50/50 with him."
She admitted the appointment was "bittersweet" and she had been in a "quandary about the ethics of accepting it".
"We are being honoured at the highest level by the highest member of the Crown for what we feel are pointing out mistakes made by the judiciary who represent the Crown that absolutely decimated my daughter's life and have put us through hell as a family."
She said she decided to accept the appointment because it would give the Justice for Jane campaign "more credibility" and help so many other victims.
Jane Clough was a nurse at Blackpool Victoria Hospital and was stabbed 71 times by Vass in the hospital car park in July 2010 while he was on bail accused of raping her.
After Vass was jailed for a minimum of 30 years in October 2010, her parents set up the Justice For Jane Campaign which prompted an amendment to the law earlier this year meaning prosecutors can now appeal against bail rulings.
Mr and Mrs Clough said challenging Vass's bail would have saved Jane's life.
The amendment to the Legal Aid, Sentencing and Punishment of Offenders Bill was dubbed "Jane's Law".
Sir Bradley
Cyclist Bradley Wiggins, who is based in Eccleston, Chorley, has been conferred a knighthood in the Queen's New Year Honours list after winning the Tour de France and then gold at the 2012 London Olympics.
The 32-year-old is the first Briton ever to win the Tour de France.
Other Lancastrians recognised include Maureen Richardson manager of the Halton Centre in Lancaster who has been appointed MBE for services to the community in Lancaster.
Elaine Bertenshaw from Lytham St Annes who is a volunteer for Lancashire Constabulary was also appointed MBE for services to policing and the community as was Burnley's Emma Hamlen, a volunteer for the youth offending team, for services to young people in Lancashire and Jacqueline McGrew, chair of Whitebirk Residents' Association in Blackburn, for services to the community.
Scout leader and school governor Thomas Westall from Lytham St Annes becomes a MBE for services to children and young people.
The principal of Blackpool Sixth Form College, Felicity Greeves, from Poulton le Fylde and Clitheroe's Margaret Nowell, head teacher of St Thomas's Centre, Blackburn have been appointed OBE for services to education.
Other OBE appointments include Preston's Steven Jackson, the founder of social welfare charity Recycling Lives and Dr Alan Hatton-Yeo, chief executive of the Beth Johnson Foundation, which promotes positive ageing.