Missing Blackpool man swept into the sea 'cannot swim'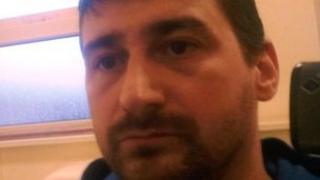 The family of a man swept into the sea in Blackpool during gale-force winds say they "fear the worst" because he cannot swim.
Paul Morris, from South Shore, Blackpool, was washed into the sea by a wave while walking a dog with a friend in the early hours of New Year's Day.
The second man raised the alarm for the missing 41-year-old, who had moved to Blackpool from Barrow in Cumbria.
The coastguard confirmed the search for Mr Morris had been called off.
A statement from his family said: "He's only recently moved back to Blackpool and we're obviously shocked by what has happened and it's a difficult time for us all, particularly as Paul can't swim and we fear the worst.
"We're now just waiting for that fateful call to say that he's been found so we can have some closure. We'd like to thank all the emergency services for their efforts in trying to find and rescue Paul."
A coastguard spokesman said: "We have covered every possible angle and it's now in the hands of the police."
Piers searched
The BBC understands Prince William was the pilot of an RAF Sea King helicopter involved in the search on New Year's Day.
The rescue helicopter from RAF Valley in Anglesey provided lighting assistance for the search teams.
Rescue teams focused on an area of the Irish Sea around Blackpool's south pier and sea wall and earlier searched under the piers.
Stuart Atkinson, watch manager at Crosby Coastguard station, had previously said the conditions, water temperature and length of time in the water made it "highly unlikely" the man could have survived.
A Lancashire Police spokeswoman said: "The man and a friend were walking a dog along steps leading from the promenade to the sea, close to the Central Pier on South Shore, when a wave washed them into the sea."
"His friend has managed to climb out of the water but sadly Paul did not emerge".