Blackpool PCs remembered 30 years after sea deaths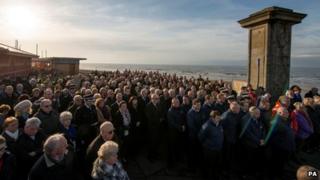 A memorial service has been held to mark 30 years since three police officers died in an attempted sea rescue at Blackpool.
PCs Colin Morrison, Gordon Connolly and Angela Bradley drowned trying to save a holidaymaker who entered the sea to rescue his pet dog on 5 January 1983.
Their families were joined by members of Lancashire Police past and present and members of the public.
Ch Supt Richard Debicki said the fallen officers made "the ultimate sacrifice".
He said: "I know for those on duty, for all the emergency services at the time, the harrowing events of that day are all still too clear.
"One can only imagine how difficult it must have been for them to hear that trusted friends and colleagues had been lost during this dreadful incident.
"But it is the pain and loss for the families, who lost their loved ones, that is the greatest and deepest."
The service was held at Gynn Square, close to where the officers went into the sea.
They were overcome by the strong tide, waves and freezing cold water as they tried to rescue 25-year-old Alistair Anthony, from Glasgow, who also died as he tried to save his Jack Russell.
A fourth officer, PC Pat Abram, was rescued by colleagues who were able to throw a rope around his neck, before he was given mouth-to-mouth resuscitation on the prom.
During the service a two-minute silence was observed and a bell, donated by Lancashire Fire Service in memory of the fallen officers, rang out for each of them.
Local preacher Tom Birch read A Lament To The Absent by Edwin Muir.
Chief Constable Steve Finnigan and members of the fallen officers' families then laid flowers under a plaque at Gynn Square which serves as a permanent memorial to their bravery.
After the service, local doctor John Frankland, who attended the rescue and helped revive PC Abram, said: "The weather was absolutely savage that night.
"The wind was very strong, the waves were very high, it was cold, threatening. Not the day to be in the sea at all.
"All these people here today, paying their respects to those who died so long ago, shows how deeply that sadness was felt."
A memorial to all emergency service staff who have died on duty will be unveiled later this year.
On New Year's Day Paul Morris, 41, died when he was swept into the sea while walking his dog on the town's South Shore.