Lancashire Council pledge 'up to £1.5m' for Lune bridge repairs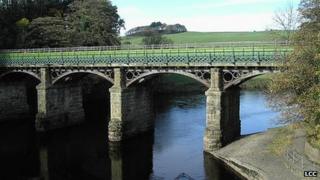 Lancashire County Council has pledged "up to £1.5m to fully restore" a listed bridge across the River Lune.
The pedestrian East Bridge, which links Caton with the River Lune Millennium Park near Lancaster, was closed in March 2011 after safety concerns.
It reopened with a temporary deck covering the original timber walkway, but work will now begin on a full restoration in the spring.
Council leader Geoff Driver said restoring the bridge was "vital".
The Grade II listed bridge is one of three that cross the river at the Crook O'Lune and formerly supported a railway line.
The restoration will see its timber deck replaced, ironwork repainted and masonry repointed.
Mr Driver said it was "vital that we continue to protect this listed structure and carry out the repairs needed to make sure it lasts for future generations".
"The Crook O' Lune is a beautiful and historic part of Lancashire and the bridge is an important part of the site, which attracts around 250,000 visitors a year," he said.
"Even in these difficult financial times, it is vital to preserve our heritage and I am delighted that we are able to invest what we estimate may cost up to £1.5m to fully restore this bridge."
A temporary walkway will be added to the nearby Caton Lune Bridge to allow pedestrians to cross alongside traffic while the work on the East Bridge takes place.