Pigeon fanciers flock to the fair at Blackpool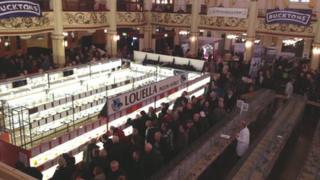 Thousands of pigeon fanciers are flocking to Blackpool for Europe's largest pigeon fair.
The Winter Gardens has hosted the annual British Homing World Show of the Year, dubbed the Crufts of the pigeon world, for the last 36 years.
It attracts more than 25,000 people to see 1,000 show pigeons and 2,000 racing pigeons over the weekend.
Pedigree racing birds can change hands at the event's auctions for up to £10,000.
Fanciers from the age of eight will compete for trophies.
'Treated like royalty'
Stewart Wardrop, of organisers The Royal Pigeon Racing Association, said: "It really is the Crufts of the pigeon world. It's the champions of champions."
Visit Blackpool tourism manager Mandy Blythe-McCallum said many hoteliers who close for the winter opened especially for the event.
Like many hotels and bed and breakfasts around the Winter Gardens, the Ruskin Hotel on Albert Road is packed with pigeon fanciers and their feathered friends.
Manager Simon Taylor said: "It's a fabulous weekend although it can be manic.
"We have people coming here year after year many from Ireland and they're a good crowd.
"There are some real characters."
He said they treat their pigeons like royalty.
"They kiss and stroke them - mind you I would if I'd paid thousands of pounds for them," he said.