Pigeon fanciers flock to Europe's largest fair in Blackpool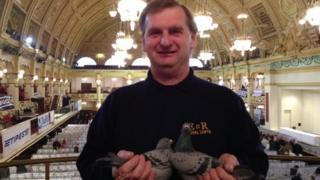 If ever there was an example of how the other half live, this could be it.
Outside Blackpool's Winter Gardens resort, pigeons scavenge for scraps of food in freezing temperatures in the town centre while inside, they are treated like royalty and sold at auction for up to £10,000 each.
Up to 25,000 pigeon fanciers will pass through the doors of the Homing Pigeons World Show of the Year - described as the Crufts of the pigeon world - this weekend.
The birds are pampered and preened by their owners who cater to their every need.
Champion pigeon racer Chris Sutton, from Leicester, keeps his 150 pigeons in a pigeon loft at the bottom of his garden, but in reality it is more like a luxury lodge complete with tubular heating, extraction fans and humidifiers.
'Man's best friend'
He cleans their nest-box and feeds and waters them at 06:00 and 18:00 GMT on the dot every day.
"For that dedication and routine they reward you with their loyalty and race to get home as quick as they can," he said.
He is also meticulous about their diet and makes sure they take their vitamins and cod liver oil.
"I give my pigeons the best start in life I can."
Wife Denise and youngest daughter Jocelyn, 12, share his passion, too. They were at home looking after the pigeons incubating their eggs.
Since workmates got him into pigeon fancying 28 years ago, his birds have successfully raced from as far afield as Spain and Portugal.
He said his pigeons love a kiss and a cuddle. "They come up and sit on my shoulder and tug on my trouser leg.
"They just want to be near you. They are so intelligent and they all have their own characteristics. To me, pigeons are man's best friend."
After being made redundant as a building site manager Mr Sutton said he was devastated.
"It was such a blow and I felt no-one wanted me. But I set up as a pigeon photographer in 2009 and it is the best thing I ever did - it's my dream job."
Although some pigeons can change hands for thousands of pounds, the 51-year-old said too much is made of big cash sales.
"It's not about the money; it's about passion and the love for pigeons.
"It can be a very cheap hobby and most racing clubs will help new starters and breed birds for them for nothing. Although then they get bit by the bug."
Stewart Wardrop, general manager of the Royal Pigeon Racing Association (RPRA) said it is trying to dispel the old stereotypes of the working-class flat-cap pigeon fanciers.
He said: "People of all classes, from working class to millionaires, and of all ages keep pigeons.
"The Queen is a pigeon fancier and she has donated two of the pigeons she keeps at her Sandringham estate to us for this weekend's charity auction."
'Weird but really cool'
Last year, the RPRA charity auction raised £70,000.
The show, which is in its 41st year, has a junior category to encourage young people into the hobby.
Celebrated pigeon racer Frank Bristow, who has bred winners in countless races, passed on some of his expertise to young pigeon fanciers in a packed lecture at the event.
He said: "Many are engrossed in computer games now and aren't hands on with nature like I was.
"When I was young all my mates on the estate had pigeons. I had a total fascination with them - and I still do to this day."
Mr Bristow from Horbling, Lincolnshire, said: "It's a great hobby for kids, which they can do with their family and it doesn't have to be expensive."
Pigeon enthusiast Daniel Oare, 12, from Broughton, Cheshire, who was at the lecture, said he got into racing the birds after finding one injured in the street, nursing it and returning it to his owner.
He said he was worried his pigeon, named Geoff, would not return - but his fears proved unfounded as he returned safely and won the race.
Daniel said: "I love racing and want to enter national tournaments in a few years."
He said his mates at school think his hobby is "weird but really cool".
It can split the household, though, as he and his father Dave enter races competing against pigeons owned by his father's partner Josie Parry.
Mr Oare said: "It is great we can all do a hobby together. It gets really competitive because we are determined to beat Josie's pigeons."