Martin Shenton: I was Ken Barlow's stunt double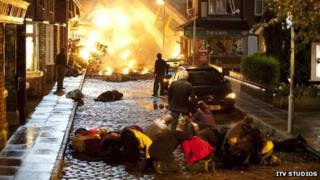 Stunt man Martin Shenton, who has a role in the Oscar-nominated Les Miserables, has put in the working hours since deciding to pursue his childhood dream in his mid-20s.
The veteran, from Morecambe, said: "I was between jobs in the last recession and I thought if I'm going to do something about my life I am going to have to do it now.
"I went to the job centre and said 'I want to be a stunt man' and they looked at me as if I was a bit weird.
"I was told that I had better go to the careers office, who said all they had got was a letter from Equity."
The trade union for actors told him he had to learn sports including gymnastics, scuba diving and high board diving, which was not a hardship as Mr Shenton had been an army instructor and a builder.
"You have to do stunt tests like falling off a high board fully clothed and learn how to fall and roll when you are hit by a car," he said.
"It is quicker to train as a doctor."
Eight years later and he landed his first booking in Casualty, BBC One's hospital soap.
"It involved a psychiatric patient who did not want to be injected and he ends up dragging his brother and two nurses down a flight of stairs - I was very nervous but we did it in one take," he recalled.
Mr Shenton appears in the opening scene of Les Miserables where a ship is being towed by rope by thousands of people.
"It was one of the strangest experiences I've had as a stunt man," he said. "We had to sing this song while pulling the rope and just get completely annihilated by water."
During his career, he has also worked in James Bond films such as Tomorrow Never Dies and even appeared as Ken Barlow's stunt double in the Coronation Street tram crash.
While the job may seem to have Hollywood glamour, much of it involves mundane yet essential tasks such as filling in risk assessment forms.
"In the building trade I had done a lot of risk assessment - a lot of it is all about real life health and safety. You can't fantasise about the things you do," he explained.
According to Mr Shenton a lot more stars are encouraged to perform their own stunts as studios seek to cut costs.
And he is full of admiration for Hugh Jackman, who plays Jean Valjean in Les Miserables.
"He was in the water with us and trained like the rest of us. He was a top man - very strong," he said.
It is very much a family concern for Mr Shenton, who runs his own stunt school in Morecambe and whose wife, a black belt in Tae Kwon Do, underwent a lot of the stunt training with him.