New Bishop of Blackburn 'must ordain women'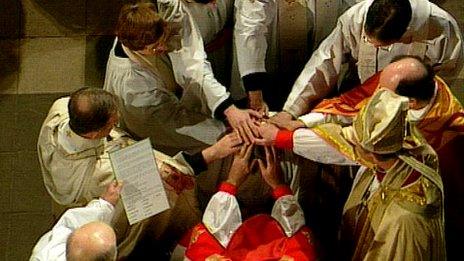 The next Bishop of Blackburn must be prepared to ordain woman priests, more than 50 priests have written in a letter to the Archbishop of York.
"The vast majority of people in the diocese are in favour of the ministry of women," said the Rev Chris Newlands, who coordinated the letter.
The Archbishop of York Dr John Sentamu will chair the committee which will select the next bishop.
A spokesman for the archbishop said all submissions would be looked at.
Mr Newlands said the last two bishops of Blackburn had been opposed to the ordination of women priests.
A successor to the Right Reverend Nicholas Reade, who retired as bishop in October, is to be chosen by the Crown Nominations Commission which meets at the end of the month.
Bishop Reade ordained male and female deacons and made provision for the Bishop of Lancaster to ordain women priests.
"I think it is important at this stage to let the commission know that this diocese is not in favour of keeping the status quo in having a bishop who doesn't ordain women," said Mr Newlands.
"There are a lot of people in this diocese who would like to see the Diocese of Blackburn move on and welcome women fully to the heart of ministry."
A spokesman for Dr Sentamu said: "The appointment of the new bishop is a matter for the Crown Nominations Committee (CNC) and therefore we cannot comment further as such matters are private and confidential.
"The letter to the archbishop will be passed to the CNC for their consideration at this time."
Related Internet Links
The BBC is not responsible for the content of external sites.