Photographer Jan Chlebik on creating a 'panorama of Preston'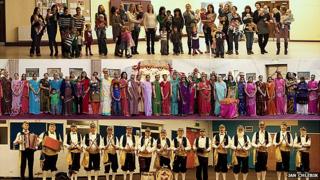 For six months, photographer Jan Chlebik has been taking his camera around the clubs, institutions and social groups of Preston.
His purpose has been a simple one - to capture images of the people of the city and bring them together for an exhibition.
His journey has taken him to around 100 such gatherings and seen him photograph everyone from the women of the Gujurat Hindu Society to the dancers of the Royal Preston Morris.
Along the way, he said he realised that what he was doing was not capturing individual panoramas, but actually making "a panorama of Preston".
'Great to resurrect'
His exhibition, Preston People Panorama, has its beginnings in the 54-year-old's time studying Fine Art at Leeds Polytechnic in the late 1970s.
The Manchester-based photographer said he became fascinated with panoramas, which were popular in the early days of photography, and has collected them ever since.
Looking at his collection, he said he had the thought that it would be "great to resurrect that idea and do it in today's modern world".
That idea led him to Dovetail, a creative agency which works to bring together organisations and people through art, who put him in touch with the organisers of the Preston Guild.
The Guild is an event which has been held every 20 years since King Henry II granted Preston market town status in 1179 and organisers saw Mr Chlebik's idea as a way of capturing its 2012 celebrations.
He said he did not want to "produce some sort of glamorised version of how people do things - it was more a case of this is where they are and this is what they do".
As a result, he found himself shooting in church halls, community centres and scout huts and, unusually, having to put on something of a show each time.
"As a photographer, you are not the centre of attention, but when you take a panorama, you have to arrange everyone in a semi-circle and you create this kind of amphitheatre.
"You have to put on a little bit of a performance, which is unexpected but you get used to it."
'Something really lovely'
Mr Chlebik said he enjoyed every shoot, but there were some that worked better than others.
"The funny thing is that, like with most things, the things you think are going to work really well don't always come off and the things that you think 'what am I going to do with this?' come off and look great," he said.
"There's one particular one which I could not see how it was going to work - Ashton Mums and Toddlers Group, which was basically a play group for small children in a church hall - but there was just something really lovely about it and it's just nice.
He said the most difficult shot was at Moor Park School, which he only managed to get on a third attempt.
"With the smaller groups, we'd done quite a few in dismal weather, but it's very different when you're dealing with 600 kids and staff - you can't get them to stand out in the rain for half an hour.
"It was challenging, but rewarding - it looks great."
The photos will be gathered together for the exhibition at the Museum of Lancashire.
Will Mr Chlebik take a break from photographing panoramas for a while?
"Funnily enough, I've realised it's not finished," he said.
"I don't know how I'm going to carry on, but I've realised there's so many other groups we could have done and so many other aspects to it that we've only just started exploring.
"I see great potential in it."
Preston People Panorama is at the Museum of Lancashire in Preston until 19 May.