Snow-hit villages near Burnley 'running out of food'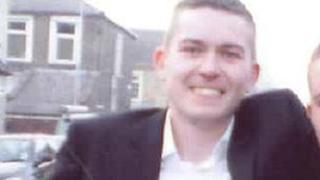 Lancashire villages in the area where a man's body was found in large drifts of snow are "running out of food" after being cut off, police said.
Ch Insp Derry Crorken said police "simply cannot get to" villages near Burnley, including Wycoller and Briercliffe, to check on residents.
He added the force was working with Lancashire County Council to reach the villages and provide supplies.
The 25-year-old whose body was found on Saturday has been named as Gary Windle.
Ch Insp Crorken said his death was not being treated as suspicious and there were indications it had simply been a "very tragic incident".
The force believes that Mr Windle had tried to walk home after a taxi was forced to abandon an attempt to drive him to Briercliffe in severe weather late on Friday night.
Ch Insp Crorken said conditions around where his body were found were "absolutely treacherous".
"Officers used a tractor to get to the scene and even that got stuck in the snow and they had to walk and crawl the remaining distance," he said.
Snow in the area has led to a number of villages being cut off due to the roads being blocked.
Wycoller resident Tony Darcy said the village had been "cut off with drifting".
"We are a village with over 40 people and are unable to get out," he said.
"There is far too much snow to manually dig our way out and once out, we would be faced with drifts on the surrounding roads.
"We have commitments to work, school and caring for our elderly relatives - we need some help and fast."