'Cash for crash' car dealer jailed after £80,000 scam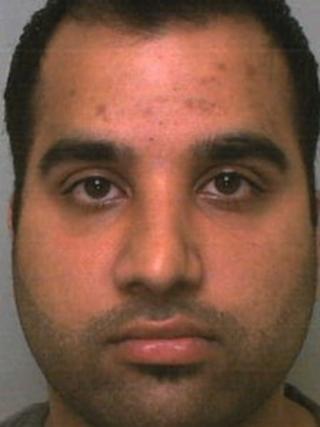 A man who fraudulently claimed thousands of pounds using methods including staging car crashes has been jailed for two years.
Bristol Crown Court heard that Mohammed Javid, from Blackburn, had been motivated by greed.
About £80,000 of claims made over a two-year period involved car accidents, household insurance and benefit fraud.
Javid, 28, had previously admitted six charges of false representation and one charge of handling stolen goods.
The court was told Javid worked with his brother-in-law Shabeer Ahmad, 30, of Fenbrook Close, Hambrook, Bristol for a claim in March 2011,
A crash was staged between two cars they were driving to defraud insurance company Liverpool Victoria out of £1,500.
The police investigation found other bogus claims over the previous two years.
Water damage
In October 2010, Javid made a claim for more than £18,000, including the hire of a Mercedes courtesy car and injuries to a passenger in a crash in Blackburn.
The court heard the insurance company paid out £2,300, but it later emerged that Javid was alone when the accident occurred.
Stephen Dent, prosecuting, said Javid flagged down a motorist on the M65 in Lancashire in September 2011 and then claimed she had swerved and damaged his van.
Police found the damage had been there when he had bought the vehicle.
Mr Dent told the court Javid also used a false name to submit a claim of £19,521 for water damage to a property he owned in Stead Close, Blackburn.
He then claimed £600 a month in rent under the name Mr Patel to rent a house in Irving Place that he already lived in while Stead Close was being repaired.
'Fraudulent and dishonest'
Mr Dent said: "He had rented out his own house to himself and claimed the costs back from the insurance company".
Javid, of Irving Place, also admitted a charge of defrauding the Department of Work and Pensions out of housing benefits worth £19,000.
Recorder James Waddington said: "You have pleaded guilty to a wide-ranging course of conduct involving fraudulent and dishonest behaviour.
"I am told that you are somebody who owns properties and so I am only able to conclude that these offences were committed more out of greed on your part than what would said to be necessity."
Co-accused Ahmad pleaded guilty to a single charge of fraud by false representation. He was sentenced to a 12-month community order.
Javid's wife Sabina Coldrink, 27, is yet to enter a plea for the charges she faces.