Leyland police chase crash driver dies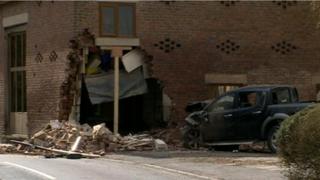 The driver of a pick-up truck that crashed into a house during a police pursuit has died, police have said.
Geoffrey Gill, 55, from Leyland, lost control of the vehicle on a bend in the town and crashed into a house on Longmeanygate at 00:20 BST on Friday.
He was taken to hospital with serious injuries and died on Friday evening.
Two police cars were in pursuit of Mr Gill's car when it crashed. Police said it had failed to stop and was being driven at high speed and erratically.
Winched out
Officers said they attempted to stop a black Mitsubishi Animal on Farrington Road because of concerns at the way it was being driven.
The vehicle was trapped in the wall of the house before being winched out by firefighters.
Sgt Malcolm Bell said a full investigation into the circumstances surrounding the crash is now underway.
"I am keen to speak with anyone who may have seen the Mitsubishi Animal being driven in the Leyland area," he said.
"I would also like to speak with anyone who may have seen Mr Gill in the hours leading up to the incident or the Mitsubishi and the police vehicles travelling towards Longmeaneygate."
The occupants of the house were not injured and were able to remain in the house after it was assessed by building inspectors, police said.
Lancashire Police has referred the case to the Independent Police Complaints Commission.