Work begins on £40m mental health unit near Blackpool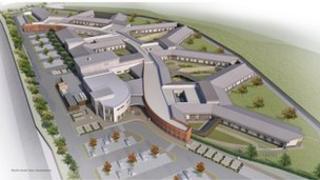 Construction work has begun on a new £40m mental health unit near Blackpool in Lancashire.
It follows a decision by Lancashire Care NHS Foundation Trust to close mental health wards in eight hospitals across the county.
The 154-bedroom unit, known as The Harbour, is being built on the Whyndyke Farm site near the M55 motorway.
It replaces in-patient services for mental health patients at Parkwood and Lytham hospitals.
Work is expected to be completed by 2015.
A review of the area's mental health services began in 2006.
Following a public consultation, health bosses took the decision to move in-patient services out of hospitals and into the community which they say is more effective.
The trust is to concentrate adult mental health services at four sites including Whyndyke Farm, Pathfinders Drive, Lancaster, Royal Blackburn Hospital and an undetermined site in Central Lancashire.
According to the National Mental Health Development Unit, one in six adults in the UK have a mental illness at any one time.