Sunbed death not linked to banned tanning jabs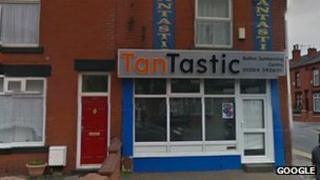 A woman's death in a sunbed shop was not linked to her use of banned tanning injections, an inquest jury has ruled.
Jenna Wilson-Vickers, 26, was found unconscious in the cubicle of the Tantastic tanning salon in Bolton, Lancashire, in September.
She had apparently been injecting Melanotan II into her stomach for weeks as well as using sunbeds excessively, Bolton Coroner's Court heard.
But the inquest found she died from heart failure linked to obesity.
Miss Wilson-Vickers had struggled with her weight and was 25st (350lbs) at the time of her death.
A pathologist told the inquest that while medical research into Melanotan II was limited, in his opinion it had nothing to do with her death.
'No evidence'
The Medicines and Healthcare Products Regulatory Agency said Melanotan works by increasing the levels of melanin, the body's natural protection from the sun.
However, it is not licensed and has not been tested for safety, quality or effectiveness so it is not known what the possible side-effects are or how serious they could be.
Pathologist Dr Patrick Waugh told the jury: "It remains that there is insufficient information in respect of Melanotan II to allow any realistic assessment of its significance in the death of Jenna.
"The possibility of adverse reaction to Melanotan can't be excluded, but there is no evidence to suggest it does.
"I can't link it to the medical cause of death.
"I would say it has nothing to do with her death, that would be my conclusion."
Miss Wilson-Vickers' mother, Shirley Mather, said she knew about the injections and had taken her daughter to the tanning shop about twice a week in the previous three months.
Website closed down
Records showed on the day Miss Wilson-Vickers died, she was having her third 12-minute tanning session in three days.
Mrs Mather said: "About two weeks before, she just said she has not got any pigment in her skin, 'That's why I'm taking these injections, so I went brown on the sunbeds'."
On the morning of her death, Mrs Mather said she took her daughter to a chemist to get a box for used needles.
She then drove her to Tantastic and waited outside in the car, going inside when her daughter did not return as usual.
Shop manager Lisa Rourke had already found Miss Vickers-Wilson collapsed in the stand-up tanning cabinet, describing her as limp and "clammy" with mottled skin.
When paramedics arrived she was declared dead at the scene.
Det Con Joanne Lally, of Greater Manchester Police, said a vial of Melanotan II found in Miss Wilson-Vickers' bedroom had been purchased from a website called Totally Tanning.
The person running the website was given a caution and the site closed down, she said.