Less water taken from Brennand and Whitendale to protect wildlife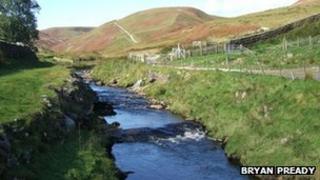 A project that will see less drinking water taken from Lancashire rivers when water levels are low in order to protect wildlife has been announced.
The joint Environment Agency and United Utilities scheme is designed to "boost the eco-systems" of the rivers Brennand and Whitendale, a spokesman said.
The rivers provide drinking water to Blackburn and the Ribble Valley.
The project will only see water taken when the rivers flow at over 40m gallons (182,000 kilolitres) a second.
The waterways have provided the area with drinking water since the 1870s.
United Utilities project manager Jason Boyd said the company had been taking out "what we've been allowed" but water removal had caused the rivers to run dry in past summers.
He said the process had caused problems with fish stocks and "the whole eco-system in the area".
New pipeline
The scheme will see United Utilities decommission a number of water intakes along the two rivers, refurbish those that remain and open two new abstraction plants.
A £12m pipeline from Martholme water treatment works, near Clayton-le-Moors, to Ramsgreave service reservoir will also be built to ensure water demand in the area can still be met.
The move has been welcomed by local landowners and environmental groups, who have worked with the two organisations to agree a solution which will help wildlife in the valley.
Brennand and Whitendale Focus Group's John Wells said the programme would help solve "environmental problems caused by unsustainable abstraction, protecting water levels and improving habitats".
Water abstraction, the process of taking water from a source for industrial or domestic usage, can only be carried out under licence from the Environment Agency.