Local elections 2013: Father and daughter fight for seat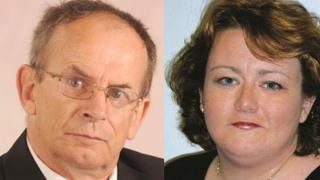 A woman who is standing against her father in the Lancashire County Council elections insists the decision was for political not personal reasons.
Independent councillor Malcolm Pritchard will be defending his seat in Accrington North from his only daughter, Labour's Clare Pritchard.
He said it came as a shock to find out he would be up against his daughter, along with two other candidates.
The Conservatives and the Green Party are also fielding candidates.
Ms Pritchard, 40, the deputy leader of Labour-run Hyndburn Council, said agreeing to stand was "a big decision".
She said: "That's politics - my dad will still be my dad after the election.
"It's not an issue. It's not personal - it's political.
"It is not an exclusive Pritchard club, there are four candidates standing and it will be an interesting result."
Mr Pritchard, 62, who secured his seat with a majority of more than 600 in 2009, said: "It came as a shock when I found out.
"No matter what happens, my daughter will always be my daughter and my feelings will always be the same."
Mr Pritchard also has a son, who is not involved in politics.
Huncoat councillor Nick Whittaker, a former pub landlord, is the Tory candidate.
He said: "I have lived in Huncoat all my life and I want to do my best for the local area."
The Green Party's Kerry Gormley said: "It's a gradualism campaign here. We have no expectation but we've got visionary policies."
Polling for the Lancashire County Council elections takes place on 2 May and the results will be announced the following day.