Burnley canal-plunge toddler's mother calls for fencing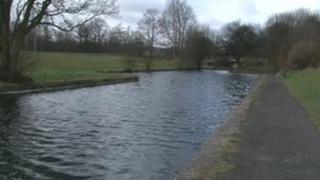 The mother of a Burnley boy rescued from the Leeds and Liverpool Canal is calling for safety fencing on the canal side to prevent further accidents.
Two-year-old Ayaan Shah was walking with his mother in the Colne Road area of Burnley on 15 April when he ran off. He was found face down in the canal.
He remains in hospital but is now off the critical list.
His mother Nazia Khan said: "I don't want any other mothers to go through what I've gone through."
'Pray for him'
Ayaan was taken to Royal Blackburn Hospital by air ambulance and transferred to Manchester Children's Hospital where he was described as "very poorly".
His mother said after three days in intensive care his condition is stable but the next few days will be crucial to see if he responds to treatment.
Mrs Khan recalled her horror at discovering her son had fallen in the canal.
She said: "I was crying for him and my hands and legs were really shaking.
"I just want my little boy to come home. I want everyone to pray for him."
Mrs Khan wants action will be taken to stop another child from falling in the water.
"They should put fences up there so no other kids will hurt themselves," she said.
Mick Cartledge, Burnley Council's director of community services, said he understood the family's concern but their proposal is not feasible.
"We do need to recognise that the canal runs for miles through the town and local countryside, and it is meant to be readily accessible to members of the public," he said.
"Fencing along the whole canal would be impractical and would not necessarily stop children getting on there.
"We will continue to work with the police to learn the lessons of this particular incident."