Jennifer Mein appointed Lancashire County Council leader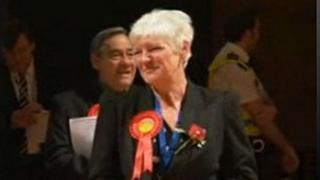 The Labour Party's Jennifer Mein has been formally appointed as the new leader of Lancashire County Council.
Labour and the Liberal Democrats struck a deal to form an administration on Wednesday.
The Conservatives lost control of the county council in the election on 6 May. Labour held the majority with 39 seats, four short of overall control.
In taking over as leader, Ms Mein said she was "overwhelmed" and "would act in a fair manner".
'Provisional agreement'
Labour and the Liberal Democrats reached a "provisional agreement" for Labour to rule as a minority administration with Lib Dem support.
Ms Mein's appointment was made at the annual full county council meeting at County Hall, Preston.
She said: "I think we have arrived at a consensus which will work for everybody and more importantly will deliver a good administration for the people of Lancashire.
"We will now be able to get on delivering what we committed to do during the elections which was commitments on jobs, growing the economy and apprenticeships."
Labour held power in Lancashire for 28 years until the Conservatives took control in the last elections held in 2009.
The Conservative Party lost 16 seats in the latest poll.
Among the other results was the British National Party's (BNP) loss of its only county council seat in the country.
The BNP's Paul Robinson lost the Padiham and Burnley West vote to Labour's Marcus Johnstone.
Sharon Wilkinson won the seat in the 2009 county council elections but she did not stand.
The election results were: Labour 39, Conservatives 35, Liberal Democrats six, Independent three and Green Party one.